Course details
"5. June" 【All-you-can-drink】 2 pitcher parfait & bouquet ★ 【Birthday course】 7 items in total · 3500 yen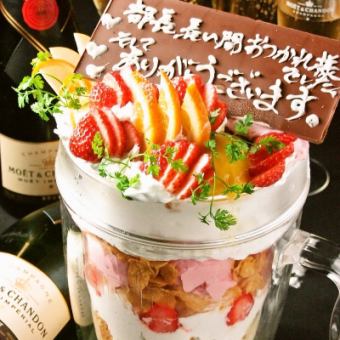 By using a coupon3500 yen
All-you-can-drink available

120 minutes all-you-can-drink (LO30 minutes ago)
Reservation deadline

Visit of hope the day before until 23:00
Celebrate at Pitcher Parfait on birthday and anniversary ♪ Bouquets are given to the leading role! Please also consult with the production of surprise!
Course menu
■ fresh fish carpaccio
■ of soft-boiled egg Caesar salad
■ Pork skewers cutlet
■ Fluffy Okonomiyaki
■ Pork belly garlic steak
■ Potato and fried shrimp with large leaf pilaf
■ Oversized Pitcher Parfait
Furthermore bouquet & Crackers with ♪
※ other budget, available upon time of day consultation.
※ There is the case that the course content by buying situation is to change.Please note.
All-you-can-drink menu
·beer
Kirin squeezed most (pitcher)
·non-alcoholic beer
Kirin Free
·Highball
· (Whiskey + soda)
Shochu
Rock / whiskey and water / hot water allocation ※ white water (wheat) / Hito (potato)
·Sake
· Hot sake 2 Go / cold sake 2 Go
·wine
Red / white (decanter)
·Cocktail
Cassis / Peach / gin / vodka / Kahlua
- Zhuhai
Lemon / plum / Oolong / Calpis
·plum wine
Rock / soda / water allocation / whiskey and water
·Soft drink
- Oolong / Calpis / Calpis soda / orange juice / grapefruit juice
Coupons that can be used with this course
2018/06/15 update