Course details
【All-you-can-drink private plan】 120 minutes 1500 yen or 180 minutes 2000 yen ♪ (excluding tax)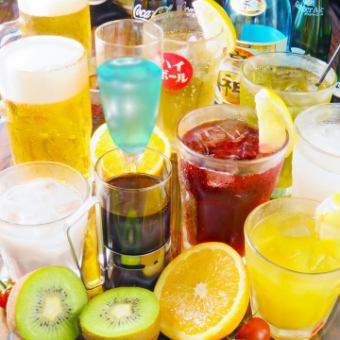 All-you-can-drink available

120 minutes or 180 minutes All-you-can-drink (30 minutes before LO) ※ Last order will be taken as one person.
Available days for reservation

Monday - Sunday - Public holidays - Holidays
Jumping in on the day OK! Combine with your favorite dish, plan for all you can drink ☆
Course menu
[Separately] all-you-can-drink plan!
Thank you for your order of cooking ☆
All-you-can-drink menu
·beer
Kirin squeezed most (pitcher)
·non-alcoholic beer
· Kirin Zero isi
·Highball
· (Whiskey + soda)
Shochu
Rock / whiskey and water / hot water allocation ※ white water (wheat) / Hito (potato)
·Sake
· Hot sake 2 Go / cold sake 2 Go
·wine
Red / white (decanter)
·Cocktail
· Cassis (Orange · Grapefruit · Soda · Milk · Oolong) / Peach (Orange · Grapefruit · Soda · Milk · Oolong) / Gin (Rock · Tonic · Soda · Orange · Grapefruit) / Vodka (Rock · Tonic · Soda · Orange · Grapefruit) / Kalua (Milk · Oolong)
- Zhuhai
Lemon / plum / Oolong / Calpis
·plum wine
· Rock / soda split / hot water split / water split ※ Non-alcohol plum wine is also available.
·Soft drink
- Oolong / Calpis / Calpis soda / orange juice / grapefruit juice
· [Premium all-you-can-drink] sake
· 【Iwate】 Asa Open Water God / 【Aichi】 God's Well / 【Kochi】 Shiken
· [Premium all-you-can-drink] shochu
· 【Miyazaki】 Black Kirishima / 【Kagoshima】 Phantom dew, steel trunk · palace god · river of God / 【Oita】 Nikaido / 【Kumamoto】 Dokyan
· [All-you-can-drink premium] Fruit wine
· Honey Prawn Sake / Kaga Plum wine / Mandarin Orange / Nigori Ryuu
2018/11/09 update