Course details
【Prepared for red! All you can eat 30 kinds of luxury iron plate dishes such as beef loinsteaks】 4000 yen with unlimited drinks!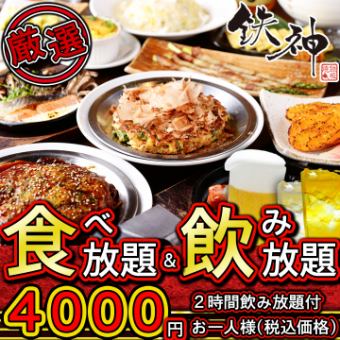 By using a coupon4000 yen
All-you-can-drink available

120 minutes All you can drink (LO 30 minutes before) ※ Last order will be taken as one person.※ All you can drink at 500 yen + can be extended to 3 hours ★ (Sun - Thu only)
Reservation deadline

Coming to the store until the desired date of the day 22
Available days for reservation

Monday - Sunday - Public holidays - Holidays
2 time system eating and drinking all-you-can-eat 4000 yen ♪ I want to eat that even ♪ I want to eat ♪ I want to eat full ♪ I want to drink a cup ♪ There were requests from many customers 【All you can eat & all you can drink】 at last.
Course menu
【Knob】
Edamame · Cold · Kimchi · Takabashi · Salted Leaf Cucumber · Tomato Slice · Onion Salad
【Fried food】
Kushikatsu (miso or sauce) · Potato fry · Deep-fried chicken of Oku Mikawa chick · Yokohama hokke fly
[Iron plate]
Chicken meat of yam and butter · Iron gods · Mei rolled asparagus · Meishaku and plum meat · thick cut beef loin steak
【Ceramic plate Monjayaki】
Mochi-ta-ta cheese monkey, pig kimchi monkey
[Recommended]
Meringue Fluffy iron god okonomiyaki, pig pear grill · meat grill
Eating
Fried noodles (sauce or salt) · God fried rice · Kuroge Wagyu beef garlic rice
[Sweet]
Vanilla ice · seasonal sorbet
* In case of using credit card, we will receive consumption tax separately.
All-you-can-drink menu
·beer
Kirin squeezed most (pitcher)
·non-alcoholic beer
· Kirin Zero isi
·Highball
· (Whiskey + soda)
Shochu
Rock / whiskey and water / hot water allocation ※ white water (wheat) / Hito (potato)
·Sake
· Hot sake 2 Go / cold sake 2 Go
·wine
Red / white (decanter)
·Cocktail
· Cassis (Orange · Grapefruit · Soda · Milk · Oolong) / Peach (Orange · Grapefruit · Soda · Milk · Oolong) / Gin (Rock · Tonic · Soda · Orange · Grapefruit) / Vodka (Rock · Tonic · Soda · Orange · Grapefruit) / Kalua (Milk · Oolong)
- Zhuhai
Lemon / plum / Oolong / Calpis
·plum wine
· Rock / soda split / hot water split / water split ※ Non-alcohol plum wine is also available.
·Soft drink
- Oolong / Calpis / Calpis soda / orange juice / grapefruit juice
· [Premium all-you-can-drink] sake
· 【Iwate】 Asa Open Water God / 【Aichi】 God's Well / 【Kochi】 Shiken
· [Premium all-you-can-drink] shochu
· 【Miyazaki】 Black Kirishima / 【Kagoshima】 Phantom dew, steel trunk · palace god · river of God / 【Oita】 Nikaido / 【Kumamoto】 Dokyan
· [All-you-can-drink premium] Fruit wine
· Honey Prawn Sake / Kaga Plum wine / Mandarin Orange / Nigori Ryuu
2018/10/18 update